Engineers Day Messages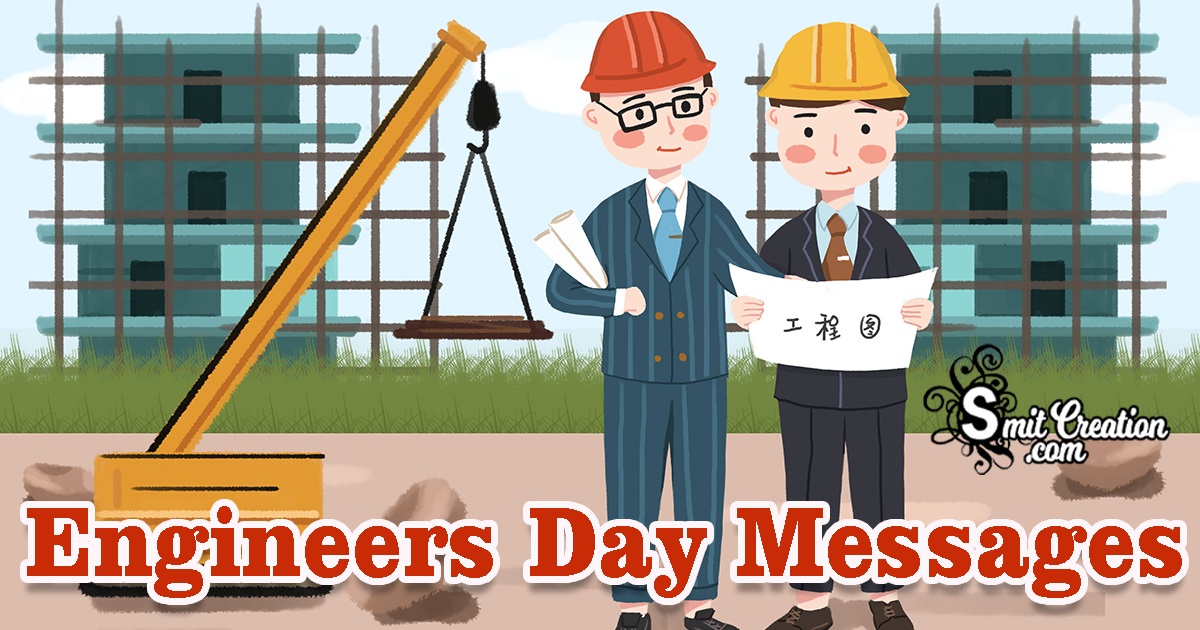 ✐ Civil build the world..
CS/IT create the magic..
Mech/Auto move the world..
EEE give power to the world..
EC/TC connect the world and
make it smaller..
Hence Engineer's are true creators
Wishing a very HAPPY ENGINEERS DAY
✐ To the optimist,
the glass is half full.
To the pessimist,
the glass is half empty.
To the engineer,
the glass is twice as big
as it needs to be.
Happy Engineers Day
✐ Engineering is an activity
other than purely manual and
physical work which brings about the utilization of
the materials and laws of nature
for the good of humanity.
✐ Newton Asked How to Write 4 between 5
Pharma student : Good Joke
M.BA. student : Impossible
Engineer student : F(IV )E
Engineers R.O.C.K.
Happy Engineers Day buddies
✐ We build the world (Civil Engineer.)
We build the magic world (Comuter Engineer)
We connect the world (Electronics & Communication Engineer.)
We are the powers of world (Electrical Engineer)
We move the world (Mechanical Engineer)
PROUD TO B AN ENGINEER
✐ 4 yrs
40 subjects
400 experiments
4000 assignments
40000 hours
A normal human CANNOT do it.
Those super heroes are called
'ENGINEERING STUDENTS'
Happy Engineer's Day
✐ You can be a Doctor and save lives.
You can be a Lawyer and defend lives.
You can be a Soldier and protect lives.
But why to play with others lives?
So we simply became engineers to screw up our own lives.
Happy Engineers Day
✐ The World can't Change us, But we can change the World!! We don't have Books in Hand, but have Revolutionary Ideas in Mind! We are the rarest common Race on Earth!! Meet us We are the ENGINEERS!!
✐ "You are the one who is responsible for so many creations. Wishing a very Happy Engineers Day to you."
✐ "The world would have been a completely different place without engineers. Happy Engineers Day."
✐ "There are so many ways you keep us ahead in this world and we are thankful to you. Happy Engineers Day."
✐ "On the occasion of Engineers Day, we extend our warm wishes to our brilliant engineers."
✐ We are thankful to engineers to make technology useful for the society. Happy Engineers Day."
✐ "What you create, we mostly enjoy. Wishing you a very Happy Engineers Day."
✐ "You never give up and that's why we have so many comforts in our lives. Thank you engineers."
✐ "Happy Engineers Day to the smart and intelligent brains who are changing the world every day."
✐ "You are the one who can create anything with your brains and creativity because you are an engineer…. Wishing you a very Happy Engineers Day."
✐ "Warm greetings on Engineers Day to you for putting your heart and soul into your profession, for creating such unique innovations and surprising us every day."
✐ "Only engineers have the power to do the impossible because they have the tool of science to create something new…. Warm wishes on Engineers Day to you."
✐ "Science and engineers together have made this life so much simple for us and on the occasion of Engineers Day, I want to thank you for being such a great engineer."
✐ "They are the ones responsible for the world that we live in and we are really thankful for their creations….. A very Happy Engineers Day to you…. May you keep creating something new."
✐ "Engineers are the ones who bring technology to make our lives simpler, to bring comforts, to bring ease and today is the day to thank them…. Happy Engineers Day."
✐ "Without engineers in our lives, it would have been a completely different world to live…. Warm wishes on Engineers Day and a big thank you for giving us all these inventions."
✐ "On the occasion of Engineers Day, I want to thank the creative, intelligent and amazing engineer in you who is constantly working hard to give us something new."
✐ "Engineers always keep adding some spice to our routine lives with their innovative creations that keep surprising us…. Happy Engineers Day to all the hard working engineers."
✐ "Their imagination and their innovation make them magicians in true sense…. They think and they create what we find impossible and unreal…. Happy Engineers Day."
Category:
Engineers Day
Contributor: Smita Haldankar