Krishna Janmashtami Messages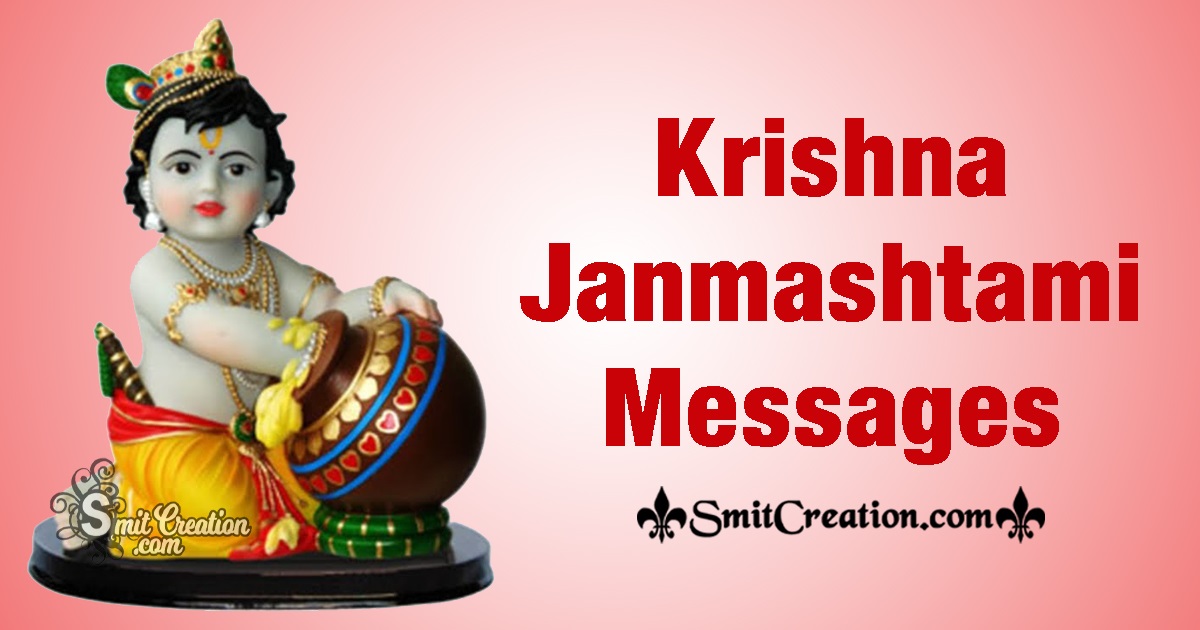 Let's celebrate Bhagwaan Krishna's Birth.
Sending you my heartfelt good wishes on this auspicious day of Janmashtami
Celebrate the birth of the ALMIGHTY! Spread the bliss of Janmashtami!
Wishing you and your family a very happy and blessed Janmashtami.
Celebrate the birth of Lord Krishna who enchants everyone by his playful mischiefs.
Have a happy and blessed Krishna Janmashtami!
May Lord Krishna come to your house and take all worries away along with him. May Lord bless you and your family.
Happy Janmashtami!
The festival of Janmashtami not only awakens our soul but also enlightens our spirit and reminds us of the presence of Lord Krishna on Earth..
Happy Janmashtmi
"It was today that Lord Krishna was born to destroy the evil and bring goodness in our lives…. Let us celebrate this wonderful occasion with high spirits…. Happy Krishna Janmashtami."
"The day to observe fast, the day to pray and also the day to enjoy the feast as we all welcome the arrival of Kanha into our lives…. Warm wishes on Janmashtami."
"Devote yourself in celebrating the birthday of Lord Krishna who has always been there to bring happiness into our lives…. Wishing a very Happy Janmashtami to you."
"Janmashtami is all about fasting and feasting…. Celebrations and memories…. Happiness and joy…. Wishing you very Happy Janmashtami."
"The only way to find peace and happiness in life is by devoting yourself in the bhakti of Lord Krishna and doing the right thing. Happy Janmashtami to you."
"The pious occasion of Krishna Janmashtami reminds us that there is nothing beyond karma and dharma. Wishing a very Happy Janmashtami."
"Let us celebrate the festival of Krishna Janmashtami by offering prayers to Kanha, by fasting and by cooking chappan bhog for him. Happy Janmashtami."
"The celebrations of Krishna Janmashtami are incomplete without bhajans and makkhan. Let us celebrate this day with the two things that were very dear to Kanha."
"Janmashtami is the time to offer chappan bhog to Kanha and seek his blessings. Warm wishes on Janmashtami to everyone."
"May each and every year all of celebrate the holy occasion of Janmashtami with each other…. May Lord Krishna always keep us together and have our love multiply with each passing day….. Best wishes on Janmashtami."
"On the auspicious occasion of Krishna Janmashtami, I pray to Lord Krishna to shower his blessings on our friendship so that we are bonded for life. May our friendship is as strong as that of Sudama and Krishna and flourish with love and affection. Wishing you a very Happy Krishna Janmashtami."
Lord Krishna is loved for people of all age groups. Kids and adults, we all adore him for various roles he has played in his life. His innocence and true friendship is what we all admire. On this pious festival, send warm heartfelt wishes to your family members to wish them Happy Janamashtmi."
"Sending my love and best wishes on Janmashtami to the most loving family in this world…. May Kahna bring in our lives new opportunities and lot of love for each other so that we always stay together in good and bad."
"Let us celebrate the birthday of Lord Krishna with great energies and let us also seek his blessings on this occasion. I pray to Him to always shower his blessings on our family by keeping us bonded together and always do our Karmas with a clean heart. Happy Krishna Janmashtami to you."
"On the occasion of Janmashtami, let us promise ourselves to always follow the teachings of Krishna and live a blessed life. Happy Janmashtami."
"When Krishna is by your side, you have nothing to worry about as he will always guide you to do the right thing. Warm wishes on Krishna Janmashtami."
Category:
Krishna Janmashtami
Contributor: Smita Haldankar