Happy Krishna Janmashtami Wishes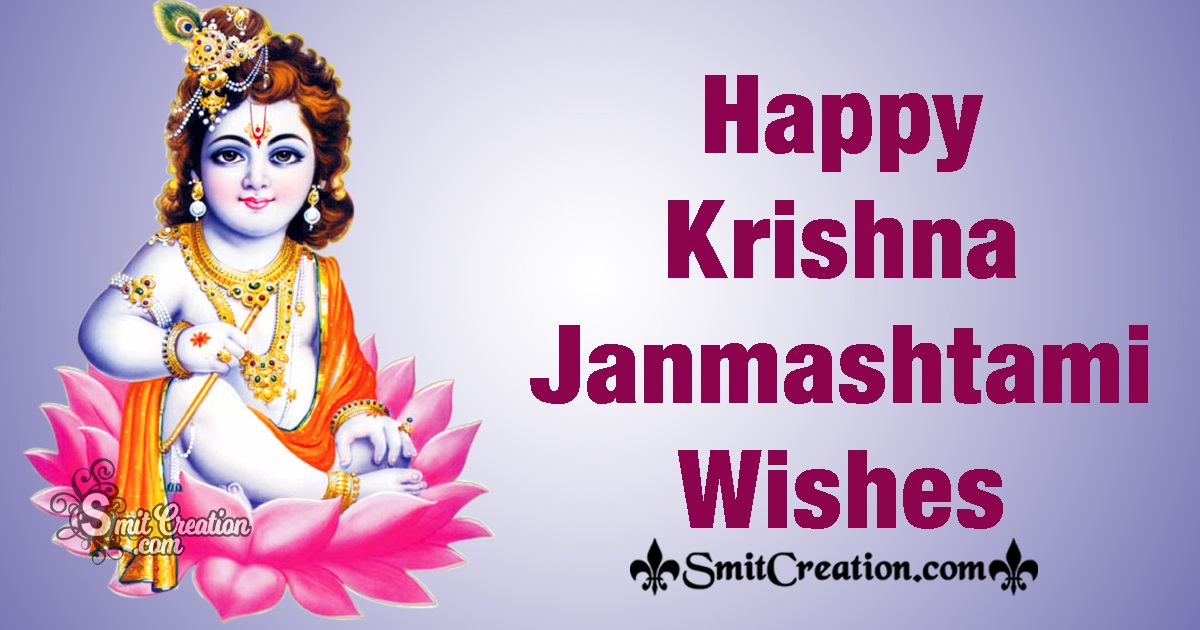 May the Natkhat Nand Lala
bless you and your family
with peace and prosperity.
Wish You A Happy Krishna Janmashtami!
Happy Krishna Janmashtami to you and your family.
I wish nand lala takes away all your miseries and sorrows in the form of makhan(butter).
May his blessings be with you and your family.
On this Janmashtami, may Bal Gopal free you from all your worries.
Don't forget to reach out to HIM for ultimate peace and happiness.
Hare Krishna Hare Krishna, Krishna Krishna Hare Hare!
Hare Rama Hare Rama, Rama Rama Hare Hare.
May Lord Krishna always shower his blessings on you.
And may every year Janmashtami bring lots of happiness for you and your family
Wishing you a very Happy Janmashtami
Jai Kanhaiya Lal Ki. Jai Ho Murlidhar Gopal Ki. May this Janmashtami bring all the good luck and immense happiness to you and your family.
Happy Janmashtami
May the sound of flute of Nandlala invite melody in your life and you get blessed with a little natkhat like him.. God bless…
Happy Janmashtami!!
May Murli Manohar continue showering health and happiness on your family and may you always remain in his list of favourites.
Happy Janmashtami!!
"Wishing you a blessed and Happy Krishna Janmashtami full of celebrations, feasts and good times with your family and friends."
"On the auspicious occasion of Janmashtami, I wish that Kanha blesses you with eternal happiness and prosperity in life."
"May success comes your way, may there are more opportunities over challenges, may there is more happiness than sorrows…. Warm wishes on Janmashtami to you."
"May Krishna come into your life and bring along lots of success and prosperity…. May Krishna is always there to guide you towards a better life…. Happy Janmashtami."
"May your Janmashtami celebrations are full of festivities and fun, bright colours and enjoyment… Wishing a very Happy Janmashtami to you."
"May the celebrations of Janmashtami don't end… May the happiness and joy of this special day stay with you throughout the day…. Happy Janmashtami."
"May Krishna come to your house and steal away all the maakhan and mishri….. May Krishna shower you with lots of happiness and prosperity…. Happy Janmashtami."
"Wishing you a Janmashtami full of celebrations and festivities…. May the bright colours of Janmashtami fill you and your heart with eternal joy."
"On the festive occasion of Janmashtami, I wish that Lord Krishna is always there to guide you and protect you in life…. Happy Janmashtami to you."
"Warm wishes on the auspicious occasion of Janmashtami to you…. Wishing you the best of festive celebrations full of colours of happiness and smiles."
"May the lotus feet of Lord Shri Krishna bring along many more reasons for to smile and be happy in life…. Warm greetings on Janmashtami to you and your family."
"May the celebrations of Krishna Janmashtami be full of joys and festivities for you with your family and friends. Happy Janmashtami to you."
"May Lord Krishna shower his love and blessings on you and your loved ones. Wishing a blessed Krishna Janmashtami to you."
"On the auspicious occasion of Janmashtami, I wish that many more smiles and much more goodness comes your way."
"Wishing you a vibrant, vivacious and fun-filled Janmashtami with your family and friends and lots of blessings from Lord Krishna to fill your life with new hopes."
"May all your dreams come true with beautiful wishes of Lord Krishna…. May there are more opportunities for you to move ahead in life…. Happy Janmashtami."
"Warm wishes on Janmashtami to you my dear…. Devote yourself in service of Lord Krishna by observing fasting and enjoying the festive celebrations."
"Wishing a very Happy Krishna Janmashtami to you…. Wishing you new and vibrant colours of happiness, health and success to make it a wonderful festive occasion for you."
"May you are always surrounded with blessings of Radha Krishna to bless each and every day of your life…. Happy Krishna Janmashtami to you."
"Wishing you memorable celebrations on Janmashtami with your loved ones…. Offer prayers, observe fasting and enjoy feasts on this special occasion."
"May Lord Krishna take away all your tensions and solve all your problems so that you just have happy and joyous moments to enjoy. Happy Janmashtami."
"On the occasion of Krishna Janmashtami, I pray that there are only roses and no thorns in your journey of life that is always blessed by Kanha."
"Wishing a very Happy Janmashtami to everyone. May Kanha is always there to bless you with all the strength to do the right karma."
Category:
Krishna Janmashtami
Contributor: Smita Haldankar