Best Good Morning Inspirational Messages Images
The greatest inspiration you can ever get is to know that you are an inspiration to others. Wake up and start living an inspirational life today.
Good Morning
Download Image
Good Morning
Faith is the art of holding on to things your reason has once accepted, inspite of your changing mood.
Have A Fabulous Day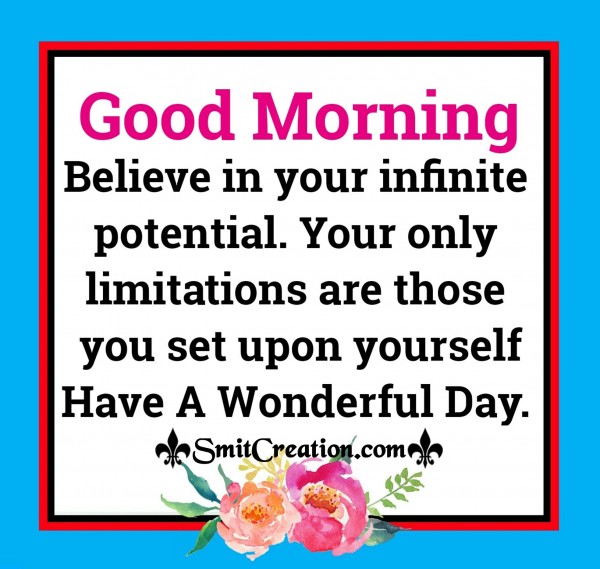 Download Image
Good Morning
Believe in your infinite potential.
our only limitations are those you set upon yourself.
Have a Wonderful day
Download Image
Good Morning
Thoughts lead to words.
Words lead to actions.
Actions build your character.
Your character determines your destiny.
Have A Thoughtful Day
Download Image
Good Morning
He who knows that enough is enough will always have enough.
Mastering others is strength. Mastering yourself is true power.
Have A Fabulous Friday
Download Image
GOOD MORNING
Make a mind which never Minds..
Make a heart which never Hurts..
Make a touch which never Pains..
Make a relation which never Ends..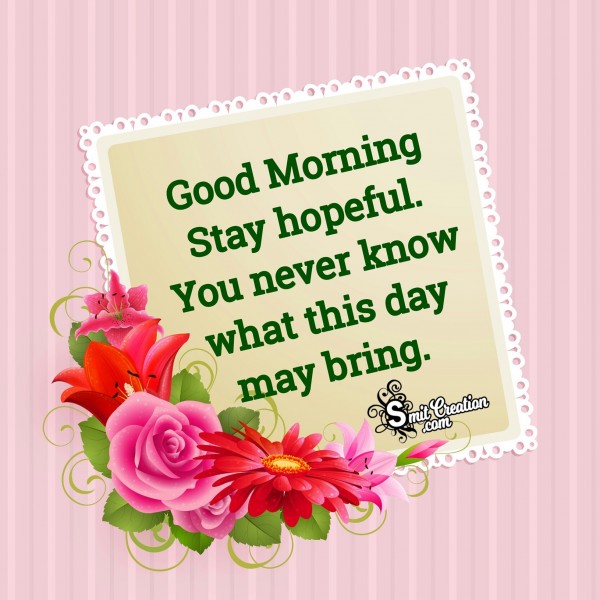 Download Image
Good Morning
Stay hopeful.
You never know what this day may bring.
Download Image
Never think hard about past. It brings tears.
Don't think more about future.It brings fears.
Live this moment with a smile. It brings cheers.
Good Morning
Download Image
All the achievements in this world
are made by People who had the courage
to not to listen to the crowd..
But..
Do what they felt was right?? Think!!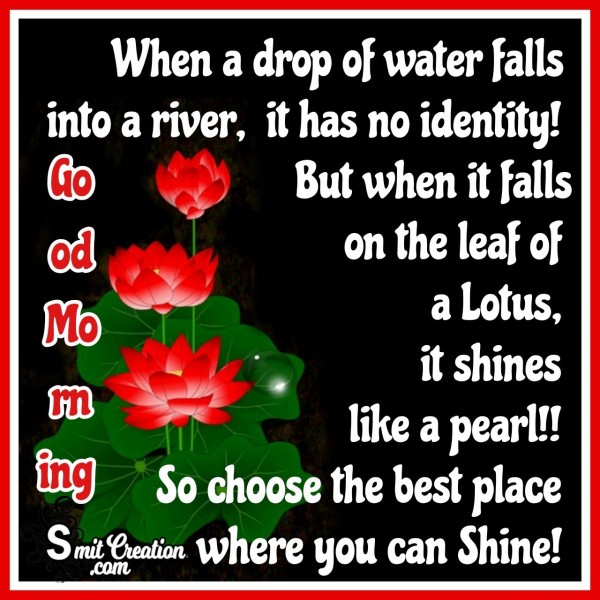 Download Image
When a drop of water falls into a river, it has no identity! But when it falls on the leaf of a Lotus, it shines like a pearl!! So choose the best place where you can shine!
Good Morning!
Download Image
Learn from flowers to blossom in the Deep forest where nobody to see their beauty like that
keep doing good work without appreciation.
Good Morning
Download Image
Good Morning
"Changing the face"
can change nothing ..
But
"Facing the change"
can change everything..!!!!
Have A Cool Day
Download Image
Good Morning
"Behavior" Is A Mirror
In Which Everyone, Displays His Own Image
Always Try To Build Your Respectable Image
Because
Reflection Cant Be Changed By Changing The Mirror !!
Have A Wonderful Day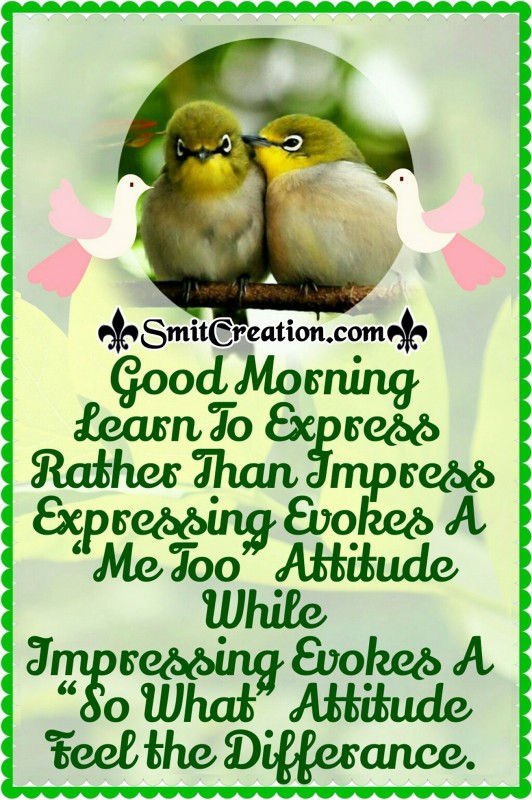 Download Image
Good Morning
Learn To Express Rather Than Impress
Expressing Evokes A "Me Too" Attitude
While
Impressing Evokes A "So What" Attitude
Feel the Differance
See More here:
Good Morning Wishes Quotes Images
Contributor: Smita Haldankar